By Claus Hetting, Wi-Fi NOW CEO & Chairman
Zenfi powers LinkNYC free Wi-Fi at 'Gigabit Center' in the Bronx, New York City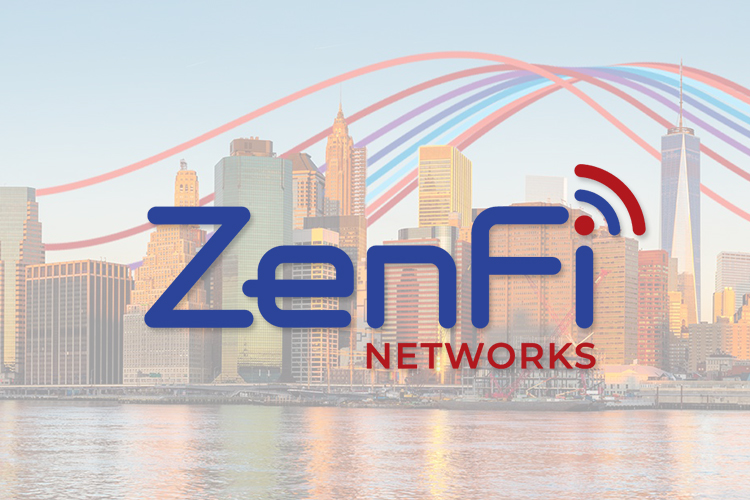 Zenfi Networks – part of CityBridge, the digital infrastructure and service provider behind the LinkNYC free Wi-Fi initiative – last week lit up another 'Gigabit Center' in the Bronx, New York City, with free LinkNYC Wi-Fi. CityBridge is via Zenfi Networks providing the in-building Wi-Fi services across more than 5,000 square feet at the historic Andrew Freedman Home building on 1125 Grand Concourse in the Bronx.
The facility was opened by among others New York City Mayor Eric Adams. "We know that access to affordable, reliable broadband is critical for participating in the modern economy, which is why I'm committed to finally ending the digital divide in our city," Mayor Adams said at the launch event.
Vice President of Business Development at Zenfi Networks Walter Cannon says the Gigabit Centers are part of LinkNYC's agreement with New York City to provide free Wi-Fi to one such facility in each of the New York City boroughs. Earlier this year LinkNYC lit up a similar facility in Harlem also with indoor free Wi-Fi. Walter Cannon says the locations for Gigabit Centers in the remaining boroughs have all been identified and approved for Wi-Fi deployment.
In addition to indoor free Wi-Fi at the new Gigabit Center locations, Zenfi deploys the fibre, Wi-Fi network, and wireless siting for the outdoor 'kiosk' based LinkNYC free Wi-Fi initiative, which is the largest outdoor public Wi-Fi network in the US with thousands of LinkNYC kiosks deployed and operating across New York City.
The Zenfi solution at the new Gigabit Centers applies the same service framework as LinkNYC city-wide outdoor Wi-Fi – including Hotspot 2.0 (Passpoint) authentication – for delivering high-quality indoor Wi-Fi at the selected locations. This means users already signed up for LinkNYC Wi-Fi can seamlessly roam onto the Wi-Fi offered at the Gigabit Centers. Zenfi Networks is a Wi-Fi NOW partner.
AT&T reaches 20 Gbps symmetric broadband speeds over fibre using 25GS-PON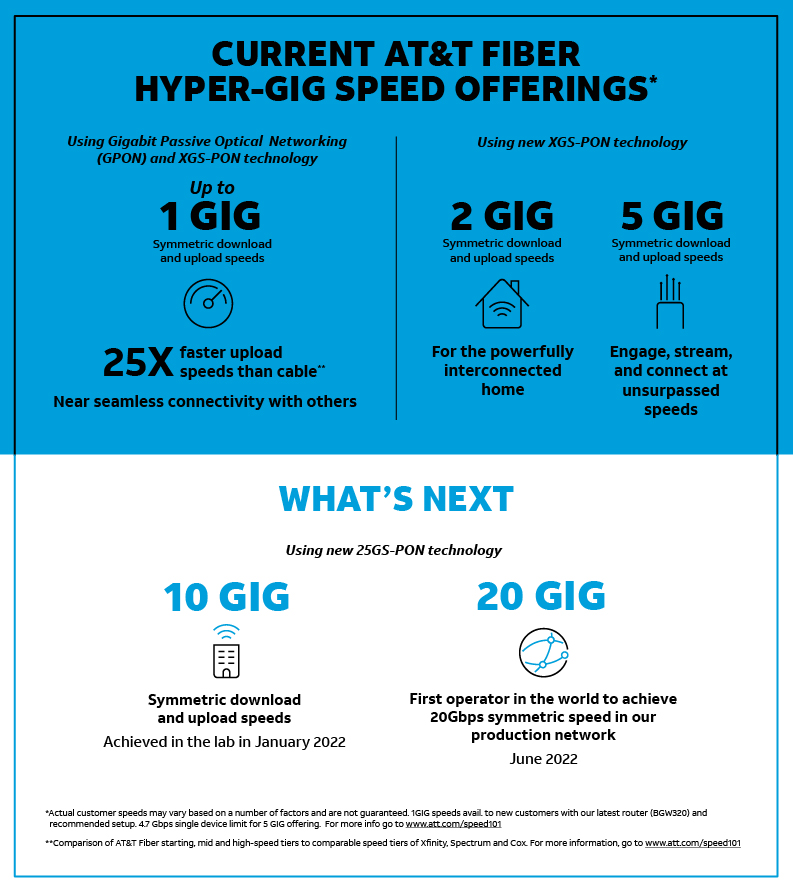 AT&T announced last week that it has become the first service provider in the world to reach 20 Gbps symmetric home broadband speeds delivered over a production fibre network. Earlier this year in January, AT&T reached the 10 Gbps milestone using the same technology.
In both cases AT&T is testing so-called 25GS-PON optical technology to reach 10 Gbps and 20 Gbps speeds as opposed to top speeds of 2 Gbps and 5 Gbps with the current XP-PON generation. AT&T says it plans to reach 30 million fibre-connected homes and businesses across the US with fibre by 2025 and that the new 25GS-PON technology is expected to reach maturity within the next 6-12 months.
The evolution of home and business broadband speeds have big implications for the rate of market adoption for new Wi-Fi standards including Wi-Fi 7. The rollout of very high data rate fibre-based services is now aligning well with the expected market entry of Wi-Fi 7 devices and APs, which by most is slated for end of next year. Broadcom recently demonstrated more than 10 Gbps aggregate speeds on already released Wi-Fi 7 chipsets (read more here) while Qualcomm's Wi-Fi 7 chips released last month top 33 Gbps. You can read more about AT&T's 20 Gbps fibre technology and their announcement here.
Qualcomm teams up with AMD for remote Wi-Fi management
While we were busy with our Wi-Fi World Congress event in Cancún Mexico last month our long-time partner Qualcomm released more great technology to aid in the smooth adoption and management of Wi-Fi 6 and Wi-Fi 6E-capable laptops for enterprises. Qualcomm's FastConnect 6900 Wi-Fi 6 and Wi-Fi 6E platform is already powering the Wi-Fi for business-grade laptops that use AMD's Ryzen processors, such as the Lenovo Thinkpad Z-series and the HP EliteBook 805 series – and these devices even include Qualcomm's Dual Stream Simultaneous for enhanced, low-latency Wi-Fi performance.
Now AMD is including the AMD Manageability processor and pairing this with the FastConnect 6900 platform to allow IT administrators management access. AMD says out-of-band Wi-Fi remote management is an important tool for enterprise IT managers to diagnose and fix issues, even when the operating system is not running. Read more about the solution here.
/Claus.